Copyright © 2020 Eltham Little Theatre Ltd. All Rights Reserved.
Eltham Little Theatre Limited, Wythfield Road, Eltham, London SE9 5TG
Registered as a Company in England and Wales. Company No. 401481
Registered as a Charity. Charity No. 208710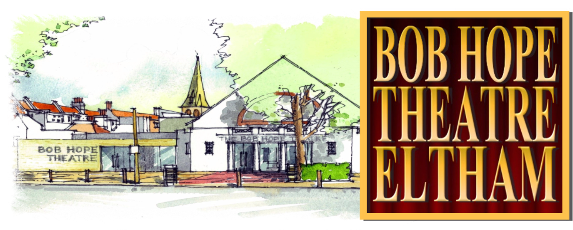 CORONAVIRUS (COVID - 19)
Following the Government's announcement yesterday and after much discussion, the Board of Management of the Bob Hope Theatre has decided that it is necessary to close our Theatre with effect from Wednesday 18th March 2020. We will continue to monitor and review the situation and will publish plans for reopening as soon as we feel that it is appropriate, given the current situation.
This means that all Theatre activities including productions, rehearsals, our New Stagers youth group, Folk and Blues and social events will cease for the duration of the closure.
We are very sorry to have to take this decision but the health and safety of our patrons and our Theatre community is of the utmost importance.
For those who have tickets for productions taking place between now and the end of July, refunds will be available. If you have booked online, tickets will be refunded automatically to the card you used to make the purchase. If you booked in person or by phone via the Theatre box office then please ring during box office hours to arrange a refund. If you have booked tickets directly with one of our visiting companies, you will need to contact them to arrange a refund.
We know those who use our Theatre will understand the need for these unprecedented measures and we look forward to working with you again in the future, once this crisis has passed.
Jennifer Sims
Chair, Bob Hope Theatre Eltham
17th March 2020
Following the announcement by HM Government on Monday 23rd March 2020 we regret that our Box Office is now closed to personal callers.
For ticketing and general enquiries please telephone
020 8850 3702 or email info@bobhopetheatre.co.uk
From Tuesday 31st March the Box Office telephone line will be open on
Tuesdays and Fridays only between 10am - 1pm
_________________________________
REFUNDS FOR ONLINE BOOKINGS
Our online ticket service, TicketSource, are in the process of refunding patrons who have booked tickets through our website. This will be done automatically to the card used to purchase tickets.
Please allow 7 to 10 working days for the refund to appear on your payment card statement.
We are working to ensure all refunds are completed in a timely manner.
We thank you for your patience and understanding in these unprecedented times.
FREE NATIONAL THEATRE, ROYAL COURT AND MORE PLAYS AND MUSICALS TO VIEW ON-LINE. CLICK ON OUR LINKS AND MORE PAGE FOR DETAILS