Copyright © 2023 Eltham Little Theatre Ltd. All Rights Reserved.
Eltham Little Theatre Limited, Wythfield Road, Eltham, London SE9 5TG
Registered as a Company in England and Wales. Company No. 401481
Registered as a Charity. Charity No. 208710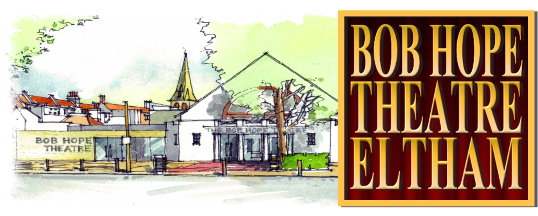 The Bob Hope Theatre, Eltham
A Brief History
Eltham Little Theatre (now The Bob Hope Theatre) was formed on 12th November 1943 to promote drama, music and allied arts in Eltham and its immediate vicinity.
During the early years it was without a permanent home but early in 1946, by arrangement with the Parochial Church Council, ELT found a home in Eltham Parish Hall (the current Theatre) on an annual lease basis.
In May 1946 Eltham Little Theatre was registered as a Company, limited by guarantee. The first production, "Hedda Gabler", was staged by an affiliated society, The Kerwin Players, in 1946.
During the period from 1946 to 1950 there were some 600 individual members and 25 affiliated societies, and a production was staged every other weekend throughout the season.
The Theatre's management endeavoured to purchase the building. However, in 1957 it became clear that the asking price was beyond reach despite constant fund-raising efforts.
By 1979 funds were low. The Theatre membership was almost resigned to closure. The lease was not renewed, the premises were up for sale……..
…………and then Bob Hope stepped in !!


Eltham Little Theatre, circa 1957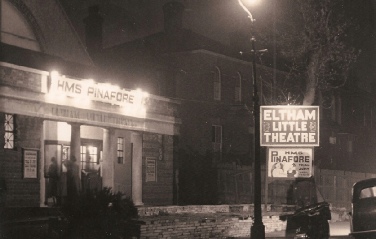 Membership is open to anyone. Full Membership is open to those 18 years and over...and there is no upper limit!! You can get involved in as little or as much as you wish to; acting, directing, stage management, scenery and prop creation, wardrobe, lighting, sound, front of house management...the list is endless.
We offer a welcoming and social environment and one where you can explore those hidden talents!
To find out more please contact The Membership Secretary via email [membership@bobhopetheatre.org.uk] or leave your name and contact number with our box office and we will call you.
For those younger, our New Stagers youth drama group is for 11 - 16 year olds.
Thank you for supporting our local theatre. We hope to be seeing more of you in the future!
Go to our Membership page
Click here for more information
As part of South East London's amateur network of artistic organisations and theatres, we are committed to creating a welcoming and nurturing environment that is accessible to the broad diversity of our local community and beyond. Our aim is to deliver a productive and supportive atmosphere that provides equal opportunities for all.