Copyright © 2023 Eltham Little Theatre Ltd. All Rights Reserved.
Eltham Little Theatre Limited, Wythfield Road, Eltham, London SE9 5TG
Registered as a Company in England and Wales. Company No. 401481
Registered as a Charity. Charity No. 208710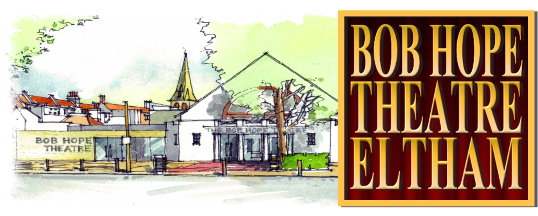 IMPORTANT INFORMATION


THE BOB HOPE THEATRE'S MONDAY MUSIC NIGHTS ARE CURRENTLY BEING HELD AT AN EXTERNAL VENUE - THE OAKS, STARBUCK CLOSE, ELTHAM SE9 2TD.

This is a delightful facility, located near B&Q at the junction between Green Lane and Footscray Road - huge car park and buses 160, 233, 314 & 321.

The spacious performance space incorporates plenty of cabaret-style seating and a well-stocked bar.
Our Music Nights are Open Mic events. Performers can attend free of charge and should book in advance to perform as we limit the number of Open Mic performers to ten or less, in addition to having two Featured Acts, in order to make these evenings manageable. Performers should contact Ted Parker on tedparker123@aol.com to book a slot.

It should be stressed that Music Nights remain Bob Hope Theatre productions and the theatre continues to provide full marketing and ticketing facilities.

Booking (£5 per ticket). Box Office 0208 850 3702 10am-1pm Tues-Sat or click on 'BOOK NOW' on the website to book online.
Looking forward to seeing all music lovers for an evening of music and fun in this lovely venue.
Book Now